To enhance the effectiveness of your outreach efforts to users who have completed an HRA, you may consider using Geographic Targeting as part of your Follow-up Plans. Create Calls to Action, Follow-up Emails, and Notifications that specifically speak to users located within your designated geographic targets, such as certain ZIP codes.
To enable Geographic Targeting for your Follow-up Plans, first navigate to the Follow-up Plan section via your HRA's dashboard module.

Next, click the Geographic Targeting tile. This will open the set-up page.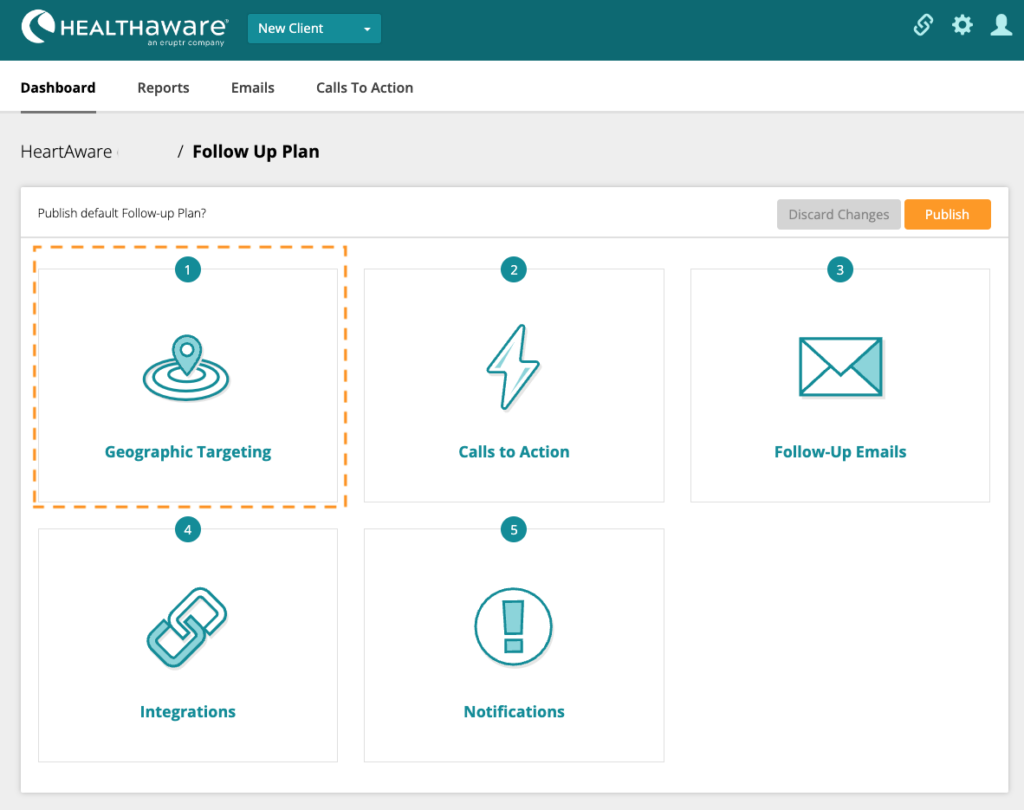 By default, Geographic Targeting is disabled. Select Enable Geographic Targeting to set up your targets.

Next, type in the ZIP codes you wish to include inside your target and click the +Add ZIP Code button. Each ZIP code will then appear in the box below. You can remove them by clicking the X next to each ZIP code in the box.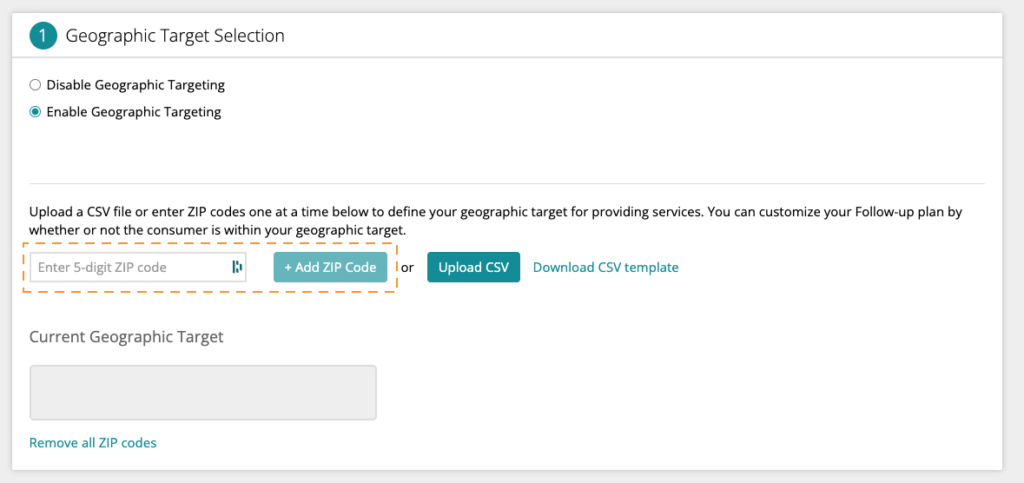 Alternatively, you can upload a CSV file of all ZIP codes you want to include in the target. This action will not replace unique ZIP codes already added to the current target. Click the Upload CSV File button to do so. We have provided a simple template for your file that you can download as well.
You can delete all ZIP codes at once in the target by clicking the Remove all ZIP codes link under the target box.
Note: Removing ZIP codes cannot be undone.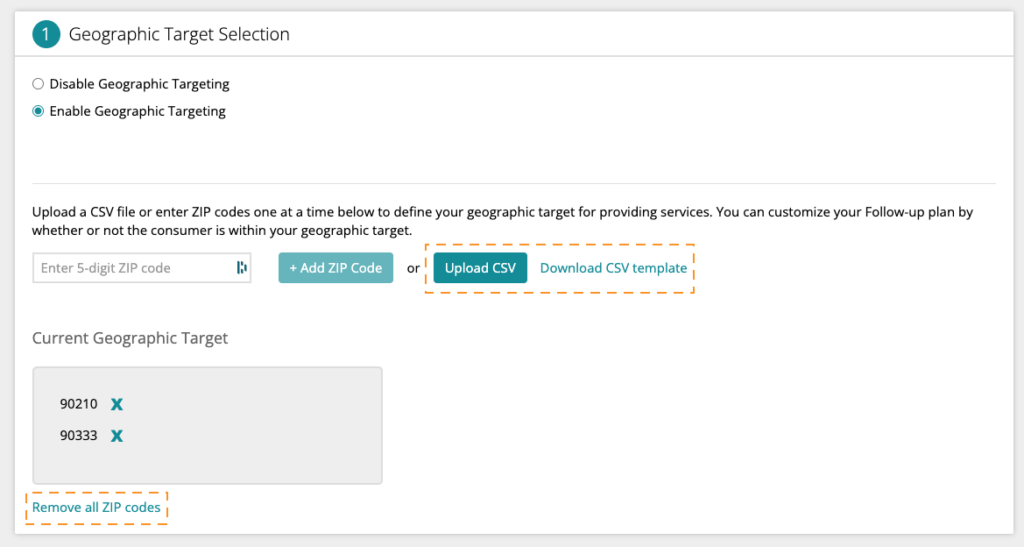 When you have finished adding all of the ZIP codes you want to include in your Geographic Target, click the Return to Plan button.
Mapping CTAs and Emails to Geographic Targets
After you've enabled Geographic Targeting, your CTAs and Emails mapping will contain two columns. You can now separate messaging into In Geographic Target: Yes and In Geographic Target: No segments for each Primary Result and for any Additional CTAs you add.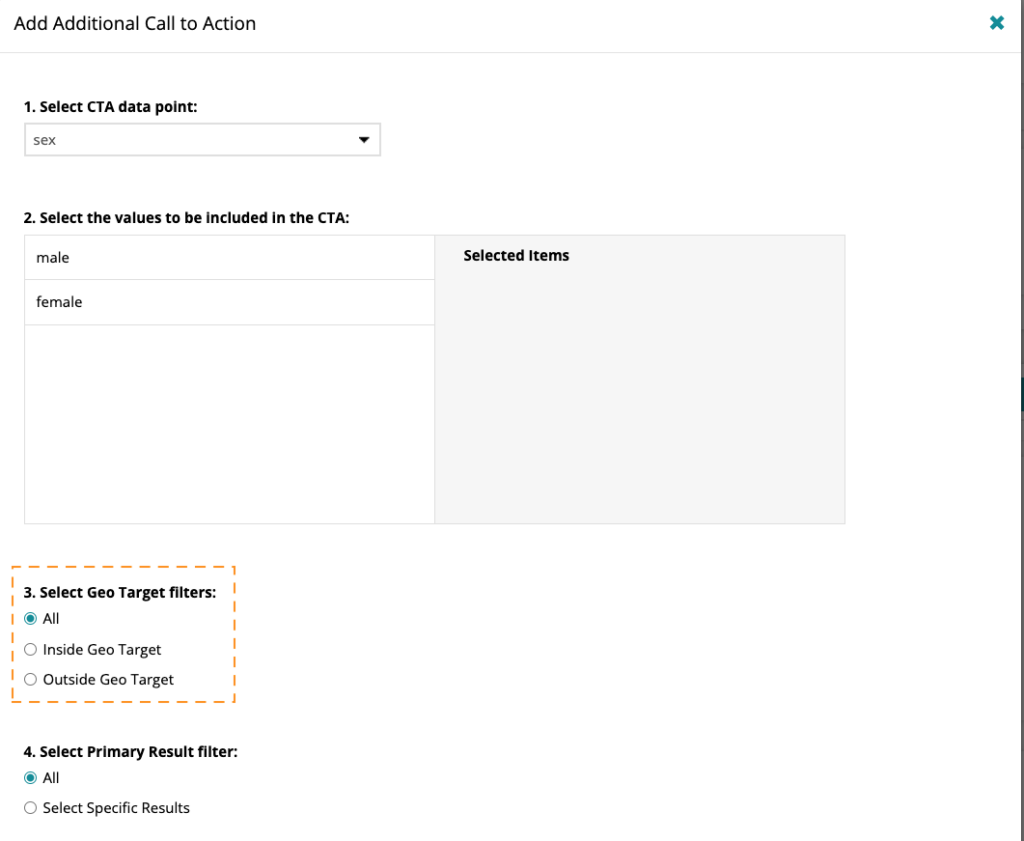 If, at any point, you wish to remove Geographic Targeting from your HRA's Follow-up Plan, select the Disable Geographic Targeting option. Should you decide to re-enable Geographic Targeting, your target ZIP codes will again be visible and you will not need to upload them again.
Important note: CTAs and/or Emails mapping that has been set up with Geographic Targeting enabled will revert to one column, with the In Geographic Target: Yes content remaining. If you re-enable Geographic Targeting, the In Geographic Target: No content will once again be visible.
If you have any Additional CTAs set up to use geographic targeting, they will revert to "All" Geographic Targets. You will need to manually update them if you re-enable Geographic Targeting.
Be sure to make any necessary changes to your CTAs' and Emails' content after enabling/disabling Geographic Targeting.
Learn more about Follow-up Plans…
Learn how to manage CTA content and availability…
Learn how to map and schedule CTAs…
Learn how to manage Follow-up Email content and availability…
Learn how to map and schedule Follow-up Emails…
Learn more about Notifications…